Do You Want to Sell Gold Mesa?
The process is simple. If you want to sell gold Mesa residents, come to Oro Express Mesa Pawn and Gold! Bring your gold into our store to test it for purity, weigh it, and offer you a price.
When we come to an agreement on the price, we put you in our system as a customer and ring you up. Within 15 minutes of testing your gold jewelry, coins, or bars you will walk out with cash in your hand.
Why Should I Sell my Gold?
The price of gold has reached an all time high. Whether you have a gold chain or a gold watch and are in need of cash, say "Sell my Gold". Oro Express Mesa is determined to pay you the highest price for your gold.
Oro Express Mesa is looking to purchase all types of gold. With gold on the rise we have our arms open to gold chains, gold teeth, gold pendants, gold jewelry, gold watches, and more! Whether it is broken, worn, or brand new you can feel confident when you sell gold in Mesa to Oro Express.
How is Gold Assessed?
There are a few factors that will largely determine the value of your gold. The variables that we look at specifically are weight, condition, and karat. Always check to see what your jewelry is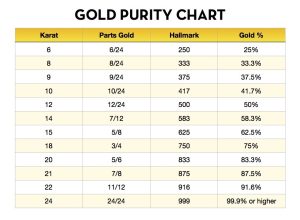 stamped at before taking your gold to get tested. The stamp is usually hidden in an inconspicuous place, like the clasp. We will be happy to show you where it is if you ask.  If your gold is stamped it will display 10K, 14K, 18K, 22K, and sometimes 24K.
Another way shops may try and cheat you is through having unlicensed scales displaying false weights for your gold. Our scales are tested annually and are labeled with our licensed scale ID – just ask one of our store employees! At Oro Express Mesa, we work hard to ensure that you feel confident when you rely on us to sell gold Mesa. Our employees collectively have 20+ years in experience when it comes to precious metal, diamond, and gold appraisal.
Why Come To Oro Express to Sell Gold Mesa Residents?
Oro Express Mesa has over 2 decades worth in buying, selling, and loaning on gold and precious metals. We put your concerns before ours and are always transparent with everything that we do. You can shop around however we are confident that you will always end up at Oro Express Mesa to get the most cash quickly, from our store when you sell gold Mesa residents!