Diamond Ring Loan
Millennials of today are losing the interest in diamonds that generations before them used to have.  While grounded in logic, the idea of paying a few month's salaries for a little rock just doesn't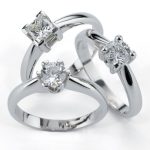 interest as many individuals as it used to.  Despite lowering demand in diamond rings, their value is still immense and not dropping at any point soon.  Diamond rings from big to small are still worth hundreds to thousands of dollars; If you're in Mesa, Tempe, or Chandler and are in need of fast cash, then a diamond ring loan is just what you need.
At Oro Express Mesa Pawn and Gold, our diamond ring loan programs have been helping residents out of financial distress for well over a decade, and can help you get back on your feet in a matter of minutes!
Valuing Diamond Rings – the Most Important Step

In order to provide a collateralized diamond ring loan, it's necessary for our associate to come up with an accurate value for the ring at hand.  It takes both a great deal of training and experience; this is in order to be able to confidently get this number right.  Especially due to the complexity and uniqueness of diamond rings, there's simply no substitution for experience.  Fortunately, all of our associates go through a rigorous diamond valuation course; as well as having a great deal of on the job experience.
Bring your diamond ring on down to Oro Express Mesa Pawn and Gold.  And one of our associates will begin their inspection of your ring.  Typically, the diamond is set inside a precious metal like gold or silver.  Therefore, we will begin with analyzing the precious metal first.  Because, for all of our diamond ring loans, we carefully evaluate both the diamonds and metals separately.  That ensures the price is fair and accurate for the piece as a whole.  These steps can be found on our Gold Loan and Silver Loan pages.
What About the Diamond Itself?
Now when it comes to the diamond, our inspection is catered around the Four C's of Diamonds; these are the Cut, Color, Clarity, and the Carat.  Some of these can be simple; even an untrained eye can rate some aspects (cut and color). Other aspects like clarity need a trained eye as well as a special tool known as a loupe.  It is not uncommon for diamonds to have inclusions within the actual diamond itself; as well as external blemishes.
In the end, every one of these aspects affect how much we can actually offer you.  All in all, these factors are combined to come up with a cash offer for your diamond ring loan.  Should you accept, we put cash in your pocket.  During this loan period, your diamond ring sits in our safe, secured vault for the duration of your loan.
Repaying Diamond Ring Loans
For all of our diamond jewelry loans, customers have a period of ninety days. During which they can come in and repay the loan in full.  And once again reclaim their diamond ring.  You can pay off the loan at anytime during that time frame, without added fees or penalties.  In fact, if you pay off the loan prior to the 60th day, we will deduct a redemption discount from the amount due.
At the end of the ninety-day period, either satisfy the loan, or come in and talk to us.  Because we're happy to work with you and help you in any way we possibly can.  Because we can provide customers a loan extension for another 90 days, with paying only the interest accrued thus far.
If you've got a diamond ring in Mesa, Gilbert, Queen Creek, or Chandler, you should visit us for a diamond ring loan.  Because our cash payouts are the best around!  Most importantly, we can guarantee you'll have cash in hand in a matter of minutes.  Oro Express Mesa Pawn & Gold is here to help you when you need cash quickly!