Sell Gold Chains for Cash
When you buy a gold chain from retail dealers, it's an investment you can wear.  With many styles and lengths to choose from, gold chains can be adorned by men and women alike.  Whether your
solid chain is made of 14 karat or a 22 karat gold, its weight is valued too.  Therefore, when you are needing money, and quickly, you can take your investment and turn it into cash for gold.  However, to ensure you get the best cash offer possible, come in and sell gold chains to Oro Express Mesa Pawn & Gold.  Because our pawnbrokers recognize value when they see it, and turn it into cash in your hands.
At Oro Express Mesa, we continue to strive to offer the most cash possible to our customers.  And to turn it into cash in your hands in mere minutes.  With our skilled and experienced staff, we continue to focus on the needs of our customers, rather than our own.  That is why many Mesa residents rely on our pawn shop to sell gold chains to get the cash they need.
The Value To Be Found When You Sell Gold Chains
The reason that gold chains can hold a great value is due to the gold's karat and how much is used to create it.  Although, another factor can depend on if they are handmade pieces, or easily produced in mass.  With this in mind, if your gold chain is made by a luxury brand, please bring in the sales receipt, or the certificate of authenticity when you come down to our store.
When you bring in your gold chains to Oro Express Mesa Pawn & Gold, our pawnbroker will begin to assess the value of your gold chain.  First, the pawnbroker will locate the hidden hallmark on the jewelry.  This stamp indicates the purity of the gold, that we will analyze and verify if it is correct.  With a touchstone, we will get the needed samples of flakes to test the gold's purity.  After the testing is completed, the gold chain will be weighed, and the current spot price checked, to present an accurate offer to our customers.
Whether our offer is accepted for you to sell gold chains to our store or not, valuations of gold jewelry are free of charge at Oro Express Mesa Pawn & Gold.
Mesa Relies On OEM To Pay Out The Most Cash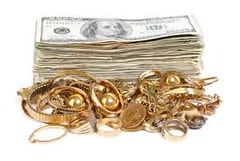 With over a decade of being the experienced pawnbrokers our customers rely on, we know what it takes to turn offers into cash to sell gold chains to our store.  The reason that offers presented to our customers turn into cash in your hands is simple.  We pay out a higher percentage of the spot price than our competitors.  Whether it is fold jewelry or gold bullion, we average paying 60% – 75% of the spot price.  Unfortunately, most pawn shops offer only 30% – 45% of the same spot price.  Because we are trying to help Mesa residents and ease their financial stress.
Live-Chat Can Save You Time
Click on the bottom right of the screen, if you have any questions about our process to sell gold chains to our store.  Our customer assistant will be happy to answer your questions, and even begin the process online.  Once you arrive at our store with your gold chains, make sure our pawnbroker knows that you started the process online on our live-chat.  This will expedite the process, and make your time at Oro Express Mesa Pawn and Gold well spent, and cash in your hands even faster!
Oro Express Mesa Pawn & Gold offers multiple ways to get the cash you need quickly!  Whether you want to sell or pawn your valuables, or are seeking a title loan, we are here for you!