Finding a Local Pawn Shop Near Me if I'm Not at Oro Express Mesa

There will be times that you may not make it to our store but do not fret.  We do know of one that is on the same level of excellence (but not quite) as us here at Oro Express Mesa.  It is B & B Pawn and Gold that is a pawn shop near you as well.  Whether you are looking for a second opinion, B & B is a good and reputable pawn shop to go to!
When looking for a pawn shop, it's always important to also factor in the actual transaction time when you do get there.  Why drive five minutes, only to have to wait thirty minutes due to incompetent employees?  Or due to the fact they simply take way too long of time to appraise your goods?
At Oro Express Mesa Pawn and Gold, we not only boast longer operating hours than most other pawn shops, but we also ensure to staff enough employees.  All transactions, no matter if it be electronics, silver, gold, cell phones, computers, or whatever, take only a few minutes for us to assess.  The reason residents of Mesa, Tempe, and Chandler visit OEM or B & B is to get fast cash.  If we wanted to wait to get our cash, then there's plenty of other financial options an individual can explore.

Finding Fast Cash at a Pawn Shop Near OEM is at B & B
We've established thorough pawn shop procedures for all of our employees to follow. So that when people are visiting their pawn shop, they can ensure that their time isn't wasted. No one wants more time spent securing fast cash then the time it took to get there.
Particularly when it comes to appraisals, we ensure that we're quick.  From gold to diamond jewelry, electronics like cell phones or laptops, bicycles, smartphones, musical instruments to coins… We can get you in and out in mere minutes with the cash you need.  On top of that, any one of our employees can provide you a free appraisal on valuable items.
When dealing with gold jewelry, it's not uncommon to want to get a few cash values before choosing.  We are more than happy to help you evaluate your options at no charge to you.  We can ensure that our prices are the highest you'll find in and around the East Valley, and are constantly doing research to ensure that we stay at the top of the market.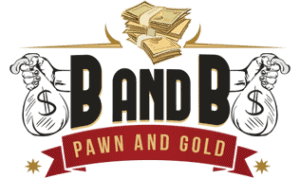 If you wonder if there is another good pawn shop in Mesa, B and B Pawn and Gold is the place. This pawn shop near OEM, is just right off of the Corner of East Main Street and South Stapley Drive inside the Sherwood Mesa Plaza Shopping Center. An easy to access locale, this fine establishment has a Google Review Score of 4.7 (based on 33 reviews), which is incredible for a Pawn Shop.
So what're you waiting for?  We're the pawn shop near you, that constantly updating our cash prices to ensure we're paying the most cash possible in Mesa, Gilbert, and Chandler.