We Give the Most Cash for Gold Mesa!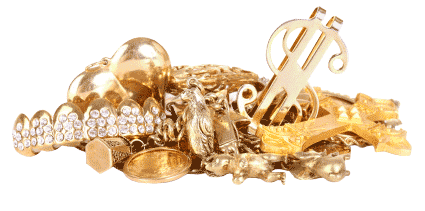 Cash is a necessity of living in the East Valley. As we know, having cash when you need it helps out of a lot of situations. So does gold, but we don't just trade gold openly like the old days in the West.  Because you can't buy a car or house with it alone. So you need a place to get cash for gold Mesa residents, that you can trust.  Therefore, Oro Express Mesa Pawn and Gold would like to throw their hat into the mix.
At Oro Express Mesa Pawn and Gold, we employ only professional gold dealers who between them all have decades of gold buying and gold selling experience.  While experts in precious metals, their expertise in gold jewelry is the most important as we're sure our customers would want.  This ensures our ability to not only provide the most accurate valuations on all types of gold, but also ensure the highest possible cash for gold Mesa, Tempe, and Chandler can rely on.
The method to get cash for gold is very straightforward. First, simply collect the gold you wish to bring to us. This gold can be in the form of any of the following:
Gold Bullion (Coin, Ingots, etc.)
Gold Jewelry (We'll also appraise the jewelry as well)
Scrap Gold
Gold Nuggets and more!
Whatever form of gold you have, don't hesitate to bring it for the cash we can offer!
The Process of Getting Cash for Gold Jewelry, Coins, and Bullion
It all begins when you bring your gold down to our Mesa pawn shop in person. Our associates will perform a thorough visual inspection on your gold jewelry before doing anything else.
What's of primary concern is the condition, quality, and purity that your gold may have.  This is indicated by a stamp that's hidden on clasps of gold chains, inside gold rings, or some other kind of tucked away surface.  This ranges from 10 kt to 24 kt which is a rough purity difference of ~40% to ~99.9%.  Next, our professionals verify this purity with an acid test.  This poses no danger to the gold jewelry whatsoever and is done not on the jewelry itself, but on gold flakes from it.  The lack of reaction to special chemicals will verify the purity of the gold, and ultimately the cash price per gram of gold we can pay.
The most important bit is the last bit and that's the weight of the gold.  The vast majority of gold jewelry has bullion value.  Which is simply what the value of the gold content is worth in the global market.  The combined gram weight and the purity allow us to make you a cash for gold offer that beats our competitors.  Once accepted and a couple of signatures, you will walk with cold, hard cash in hand.
All-in-all, the process can be said and done within a matter of fifteen minutes allowing you to go from zero to hero quickly.  Paying the highest cash for gold prices in Mesa, Oro Express Mesa Pawn and Gold is the only place to visit for your gold selling needs.

Oro Express Mesa Offers Pawn Loan Options
We're the first ones to understand that gold jewelry has more than just cash value to the majority of customers.  Many times it's a gift from a loved one or close friend meaning it carries its own sentimental value as well.  We do not want to be the one to strip such a cherished gold jewelry item from our customers. So we're happy to offer them another option: cash for gold loans.
Our gold loan option will allow you to leave with just about the same amount of cash. In addition you have the option to reclaim your gold jewelry within 90 days. All that would be required is the interest accrued during the loan, plus the principal. As a result of paying it back, we place the gold jewelry right back in your hand.
At Oro Express Mesa Pawn and Gold we care about our customers and can ensure our cash for gold services will get you the money you need in mere minutes.
OEM is the Pawn Shop the East Valley Trusts!
So what're you waiting for?  Get cash for gold Mesa residents, for your jewelry, coins, and bullion at Oro Express Mesa Pawn and Gold.
Indeed there is! Aside from getting the cash for gold Mesa locals trust, you can also look into getting pawn loans for other items. For instance, power tools, diamonds, cell phones, electronic loans, and so much more! We also offer title loans from your vehicle thanks to our partner, Phoenix Title Loans. This arrangement of services gives us the edge that allowed us to remain in successful business for over two decades! Finally, we're not limited to JUST Mesa; we also serve Tempe, Phoenix, Chandler, Gilbert, Queen Creek and all of the East Valley.