Sell Watch
There are not too many accessories in this day and age, despite how progressive we've become, that is universal between all genders.  A watch is one of the few items remaining that can be unisex;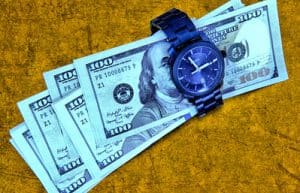 it's worn and admired by both men and women worldwide.  It's also one of the few items whose price scale lives on; one that's about as wide of the world. Fashion watches are being bought and sold used for less than $100; fine watches like Rolex and Breitling being bought and sold for over $10,000!
At Oro Express Mesa Pawn and Gold is the place to sell watches for cash in mere minutes.  Our Mesa pawn shop is open seven days a week and every major holiday; allowing the citizens of Mesa, Tempe, and Chandler to have access to the fast cash they need.
Getting Cash for Used Watches
One aspect of our watch buying that we can't stress enough is that we will literally give our customers cash for any and all watches they have, as long as it has some kind of value.  We don't discriminate by brand, by value, or by what it's made out of.  If you've got a used watch you'd like to sell and are unsure of its value, bring it on down to Oro Express Mesa Pawn and Gold – we can almost promise our unique ability to put cash right into your hand.  No appointments necessary, no-nonsense, just bring your watch on by and sell it today.
Our selling watch process is quick and easy. Most of the time we will have customers in and out of our store within five minutes!  It all starts when you bring your watch on down to our Mesa pawn shop.  First and foremost, our associate will begin by assessing its overall cosmetic condition.  This means looking for scratches on the face, on the band, and other small details.  Most importantly, our associate will take a look at what the global market; this helps us discover the value of what is currently buying and selling that exact used model for.
We believe in paying our customers the most amount of cash possible, determined by what the national market has determined.  When you visit Oro Express Mesa Pawn and Gold, you can be assured you're getting the most cash possible for selling your watch.
Selling Your Watch Isn't the Only Option!
We understand that a watch can be what makes or breaks some outfits, and parting with such a necessary accessory can be difficult despite our financial situation.  IF this is the case, then don't worry whatsoever, to our residents in Mesa, Tempe, or Chandler, we're happy to offer our watch loan services to our customers.  You can get cash in your hand the exact same way as if you had sold it, but have the option at the end of ninety days to repay the principal loan and interest and regain possession of your watch, fine or fashion.  So if you're looking to sell watches, we're the only place you should visit.  Nobody pays more cash for watches than us!