Pawn Diamonds for Quick Cash at Oro Express Mesa!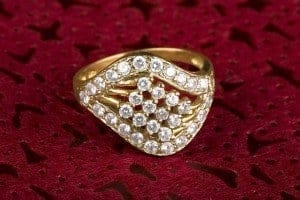 Do you love diamonds? So do we! But we understand you don't want to part ways with your diamonds. So we'll meet you halfway by offering a pawn loan when you pawn diamonds with us at Oro Express Mesa.
Why Pawn Diamonds? Why not have you buy them?
That's a good question: well, understand that when you are having us BUY your diamonds, we claim ownership when the deal is done. So if you want them back, you would have to pay us based on what we value the diamonds to be. Of course, it's ok to buy diamond rings from pawn shops, particularly our pawn shop. However, with a pawn loan, YOU still have ownership of the diamonds. As long as the loan is paid or is in the process of being paid, it's still your diamonds. We also take extra precautions to make sure that they are kept safe. After all, you're TRUSTING us to hold onto your diamonds while we give you cash. That's not something we can say if you just let us buy diamonds off of you.

What Kind of Diamonds Can I Pawn?
There are many types of diamonds we take in, aside from the tried and true cuts themselves. We pawn diamond rings, earrings, necklaces, loose diamonds, cuffs and cuff-links, and more. If we COULD, we'd pawn diamond DRESSES. Any carat, any cut, any color. All are valuable to us. To be truthful, the higher the grade of cut and carat, the more cash we can offer on a  pawn loan. But never let that determine if you should bring your diamonds or not. Our staff will be more than happy to provide an assessment for your precious metals and precious stones.

How Long is the Pawn Loan Good For?
The pawn loans we offer last for up to 90 days. During this time, you can pay off the loan in full (interest included) with no penalty in doing so. We don't mind at all, in fact, we'll be happy that you did. If you need more time, we'll help you with that too. Just let us know in advance and we'll request you only pay the interest accrued from the loan. This will give you an additional 90 days extension to get the money you need.
Understand, however, that the contract will be written again for another 90 days. Finally, if you truly want to part ways with your diamonds, just let us know. We'll use them as the payment for the loan itself and you walk away free and clear of the loan. We won't need to come after you, like other loan programs out there. If you have additional questions or concerns, click on the bottom right of your screen.

So What Makes Oro Express Mesa Stand Out?
Simply put, we have a great deal of experience when customers pawn diamonds at our store. Our trained staff of professional pawnbrokers have a combined experience of over three decades of knowledge to help you get your diamonds appraised for their full worth. Our location is at the Heart of Old Mesa, so we are a valued part of Mesa's rich history.
Finally our pawn shop has staff members that are fluently bi-lingual in both American English and Spanish. ¿Sé Habla Español? ¡Nosotros También! ¡No Es Un Problema En Esta Tienda! These and many others are the reasons why people keep coming back for service. We have had the pleasure to serve our city of Mesa and the neighboring cities of Tempe, Apache Junction, Gilbert, and beyond for the past decade and will continue onward doing so. So don't let your diamonds go to waste. Bring them to us and we'll put some cash in your pocket today!