Slash those debt down when you get a Chainsaw Pawn at Oro Express Mesa!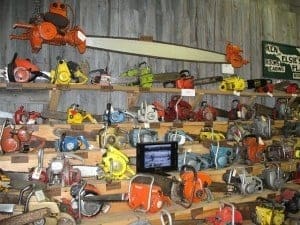 If you are feeling like a bump on a log from financial concerns, Oro Express Mesa Pawn and Gold can help cut it down! Because a chainsaw pawn loan will trim that stack of bills down with a secured loan.
Secure Cash in Hand with a Collateral Loan
Collateral Loans are quick and easy access to cash you when you need it the most! There is never the hassle of a credit check, having to provide proof of employment or waiting on whether your loan is approved! Most importantly, when the loan is paid back, your chainsaw is back in your possession.
Bring in your gas or electric chainsaw, pawn it for the best cash offer possible, and ease your mind!  An associate will be able to valuate its fair market value and make you an offer with ease. First, the chainsaw will be tested, to make sure it is in good working order. After that, we consider the external look of your equipment to come up with the best cash offer.
There is never an obligation to accept the cash offer. All of our appraisals are free of charge!
We accept all brands…for example:
Just to name a few!
90-Day Chainsaw Pawn Loan Terms
 When a cash offer is accepted, your valid ID and a few signatures are needed, and your walking with cash in hand! Our secured loans are for 90 days, and it is your choice how to pay it off. You have the options of paying it back all at once, or make weekly or monthly payments. If paid off before the contract is up, the less interest you pay, nor are there penalty fees. To buy yourself more time and extend the loan, all we need is the interest due. We can offer this option as many times as you need. Oro Express Mesa Pawn and Gold is here to help you when you need cash!
Our locations cross streets are East Broadway Road and South Mesa Drive in Mesa!