Estate Jewelry Buyer
When we hear the word heirloom, we often think of generational items, mainly paintings.  The most common hand me downs that tend to be passed from generation to generation is actually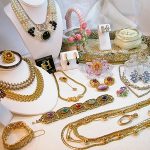 jewelry.  These precious, sentimental items can sometimes be ancient and hundreds of years old, or extremely valuable.  When push comes to shove, and financial distress hits as we all experienced a decade ago. Parting with this jewelry can be the only way to get back on your feet.
At Oro Express Mesa Pawn and Gold, we understand the sentimental nature of these items. Selling them for cash is not the easiest thing; so we handle them with respect and discretion.  This type of jewelry is referred to as estate jewelry, and we're the only place in Mesa, Tempe, or Chandler that you should allow to be your estate jewelry buyer.
Selling Estate Jewelry – The Process
Due to the nature of this vintage, antique jewelry, it's near impossible for us to provide quotes or estimates remotely.  Because we simply can't do it without seeing the jewelry in hand first.  This means that all folks looking for their next estate jewelry buyer must come down to our Mesa pawn shop in person.  Don't worry, however, as with our being open seven days a week, as well as having staff available just about every minute of every day, we'll have you in and out as soon as possible.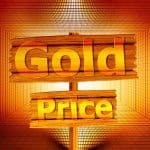 Much of the value that comes from estate jewelry is in the precious metals used.  This means the silver, gold, platinum, or diamonds in the jewelry is really what our associates are trying to assess the value of and determine the cash offer we can get you.  Particularly when it comes to being an effective estate jewelry buyer.  That is why they are assessed based on the precious metals weight, and fineness (aka purity).  Therefore we are equipped with the testing capability to verify the gold's karat, weigh it, and then confirm the gold's spot price before presenting our estate jewelry buyer cash offer.
There's no amount of training that can replace or emulate flat out experience.  All of our employees have a near decade of silver, gold, and estate jewelry buyer experience to ensure our customers are getting the most amount of cash possible.  All in all, the process can take less than 15 minutes.  And all you need to get cash for your jewelry is your ID and a few signatures.
Estate Jewelry Options – Keep Your Jewelry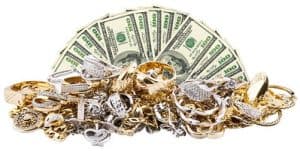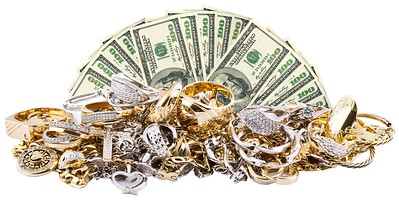 Because of the mentioned sentimental nature, we understand that sometimes parting with such precious items is sometimes not the ideal answer.  At Oro Express Mesa Pawn and Gold, we were never want to put our Mesa, Tempe, or Chandler customers in such a position.  As such, we're happy to offer our customers' estate jewelry loans. In place of selling their estate jewelry, they can regain possession of their jewelry once the loan is paid.
As a customer, you can leave with the exact same amount of cash in the exact same amount of time.  But before ninety days end, you can come and repay the loan and the interest accrued; do this in order to get your estate jewelry back.  There's no reason to have to part with items that have been in your family for generations.  Our estate jewelry loans are the best option for those customers not wanting to sell their items.