Pawn Louis Vuitton Handbags for Cash In Mesa
Louis-Vuitton is a name that is known throughout the world to give an air of class and style.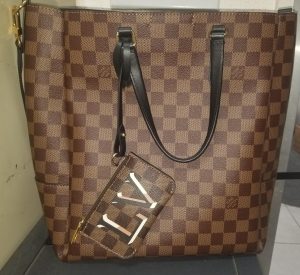 It is highly regarded along with Gucci and Dulce & Gabbana as the best in designer handbags and accessories. With the recent economic setbacks in the last few months, Oro Express Mesa Pawn and Gold  knows people need cash.  Because  without being able to go out freely, luxury items are not needed as much as taking care of your family.  As a result, OEM is extending secured loans when you pawn Louis Vuitton Handbags, wallets and accessories with us!
Authenticating To Pawn Louis Vuitton Handbags is Key Factor!
As with any things of value, it is essential that we ensure the authenticity of the Louis Vuitton handbag. If you have the receipt of purchase, the original box it came in or Card of Authenticity will validate this. Having all three, not only validates it, but will increase the cash offer as well. If there is none of the above to prove its credentials, we have the means to do so. A technological advancement to check its validity, called Entrupy. With this technology our associates will confirm its authenticity in minutes after scanning.  Therefore, confirming it is a genuine Louis Vuitton item.
There is a $45 charge, up front, to verify whether your Louis Vuitton handbag, wallet, etc., is authentic or not.  This charge is non-refundable, whether the results find your handbag is authenticated or not.
The Minimum Value to Secure a Pawn Loan
To pawn Louis Vuitton handbag's, the valuation of the purse must be a minimum of $250. First and foremost, authenticity is confirmed. After that, an Oro Express Mesa Pawn and Gold staff member will look at the exterior and interior condition of the bag. As stated above, any proof of the Louis Vuitton's authenticity will be well favored for the amount of the loan.  After that, based on the handbag's fair market value, a cash offer will be presented.
Upon accepting the offer, you will need to provide your valid and current Arizona ID.  After that we will need just a few signatures to complete the process.  After that, we will count the cash and put it in your hand , along with your agreement of the secured loan.
Terms and Conditions When You Pawn Louis Vuitton Purses
All pawn loans are for a term of 90 days. You are welcome to pay off the loan early without any penalty fees being charged.  So consequently, if you satisfy the loan prior to the 60th day, it will actually lower your payout.  Because we will apply a redemption discount for your early payment.  In the end, you'll have saved yourself some cash and once again have your valuables as well.
Oro Express Mesa Pawn and Gold also understands that life happens.  And sometimes it is impossible to pay it off within that time period. No worries! Paying only the interest accrued we can write up another loan on the principle that remains. We can do this as many times to satisfy the loan and return your valuables.
Please click on the live chat at the bottom right of the screen. An associate will answer any questions you may have.  Also, save yourself time and begin the paperwork before you even arrive at the store, to pawn Louis Vuitton handbags, and other valuables.
Convenient Location and Multiple Services
Our cross streets of East Broadway Road and North Mesa Drive, we are here for Mesa Residents! Most importantly, over a decade of serving Mesa, Tempe and Chandler, our store continues to offer the most cash when you pawn Louis Vuitton accessories, and more. If there is value to find for a cash loan, Oro Express Mesa Pawn and Gold is a place to count on!