THE BEST ESTATE JEWELRY LOANS MESA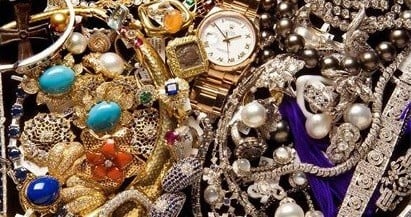 What is Estate Jewelry, exactly?
Estate jewelry is loosely classified as any type of jewelry that is previously owned. Many people commonly refer to estate jewelry as antique jewelry, vintage jewelry, and period jewelry. Typically estate jewelry will not be accompanied by a receipt or any sort of authenticity papers as it can very well be over hundreds of years old. At our pawn shop in Mesa we value the importance of your precious pieces, and one of our friendly trained staff members can correctly appraise and authenticate your jewelry, gold, and diamonds.
Why pull out a loan on your Estate Jewelry?
We loan the most cash on all previously owned and/or new estate jewelry. We offer free appraisals from our qualified experts and specialists on your estate jewelry. Thanks to their expertise, we are able to turn your estate jewelry into cash within minutes. You no longer have to endure hardship and part with your cherished keepsakes. Get cash and keep your item when you take a loan out for these items. If you still have concerns over your heirlooms, don't worry. Our mission is to provide professional, trustworthy and courteous service that you will always remember so you will think of us again, whenever you need a loan on estate jewelry or another fine item such as gold, watches, diamonds, silver, or other precious metals and items. 
What Estate Jewelry do we loan cash on?
Our pawn shop offers estate jewelry loans Mesa on any estate jewelry items. These types include diamonds, watches, colored gemstones, designer jewelry, flatware, silverware, gold, silver, and platinum. We're able to make a cash loan on individual items as well. So whether it's as an entire lot or in various parts, we'll strive to always loan the most cash for your estate jewelry!
We are also actively seeking Rolex, Tiffany, Breitling, Cartier, Audemar-Piguet, Bruguet, IWC, Patek Philippe and other fine brands.
Don't forget we proudly serve the Tempe, Scottsdale, and Chandler areas!