WE PAWN
ANYTHING OF VALUE

AT OUR STORE! ANYTHING!

We can't be called a 'pawn shop' if we don't accept items to pawn. That would be like asking for glass of water and getting a plate of sand. So it would make sense that we want to pawn items of value so you can get cash out of the deal. So don't let your treasures become trash, and stop by our store today and get the money you deserve!
What kinds of things are 'anything?'
Interesting question. Well, the most common things we take are gold and silver. We pawn those items often enough that our staff can inform you of their value easily. We also will provide you a pawn loan on the spot for these wonderful precious metals. Diamonds also have a strong following as well. A 'Girl's best friend' is our closest confidant and we have seen quite a few come our way. We've also pawn some of the more interesting items we've come across, from the expected Video Games and TVs to even the obscure but sought after Power Tools. As we've stated earlier, we pawn any item that is of value to us, so if you think you have something that can get you some extra money, stop by today.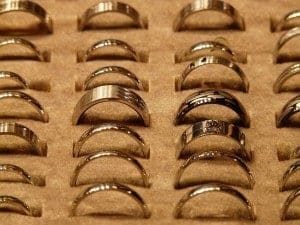 How does your pawns work?
The process is simple. First, bring the aforementioned item(s) to our store. Once there, our staff will inspect the item(s) and will offer a pawn loan in cash. Can't beat cold hard cash! Naturally, as this is a loan, you would have to pay us back, but we give you 90 days to do so!
The good news doesn't stop there. During that time, you have several ways to pay off the loan. First, you can simply pay us back the full amount in its entirety. There is NO penalty in doing this, at all. In fact, we encourage it! It proves you turned your financial situation around. Second, you can just pay us the interest on the loan. This will give you an extension of another 90 days. Life happens, and we're here to help when it does. Finally, should you truly wish to part ways at any time or at the 90th day, let us know and we'll use the item(s) you gave us as payment. Keep this in mind as a LAST RESORT.

What separates Oro Express Mesa from the Competition?
Let's begin with the less obvious: We pawn with purpose. That purpose is giving you the most value in your item(s) so you can come back to us again should the need ever arise. We're not afraid to take even the most obscure of rarities should it be of value to us. Now for the more obvious: This is not our first rodeo as a pawnbroker. We've been in successful business for the past decade serving local Mesans finding the financial freedom they deserve. Our Staff has the combined knowledge of over THREE DECADES (that's even longer than the store's been open) in this business, so we WILL give you the best value for what you offer to us. This service does not stop at Mesa. We also serve the neighboring cities of Tempe, Phoenix, Scottsdale, Chandler, and more. So stop by today and see what we pawn from you!