Sell Jewelry to Our Mesa Pawn Shop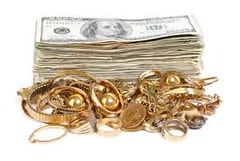 If you find yourself in times of financial need, then there's only one pawn shop you can rely to sell jewelry and get the best cash offers: Oro Express Mesa Pawn and Gold.  We've been the number one place to sell jewelry for well over a decade; allowing our wide base of customers to go from zero to hundreds.  There are times we have offered thousands of dollars in mere minutes for diamond jewelry and more.
No matter if it's silver, gold, or platinum jewelry, we pay the most amount of cash up front and we do not waste your time when we buy it.  Open seven days a week, there's never a reason why you should leave yourself in financial distress when you could sell jewelry today.  Let's take a look at the process!
Valuing Jewelry: the Most Important Step to Sell Jewelry
All of our associates have a decade of the jewelry buying experience.  From silver to gold to diamond jewelry, our experience is unmatched and ensures that all customers are getting their value.  At our Mesa pawn shop, we stay ahead of the competition by updating our prices on a daily basis.  The spot price for these precious metals is what the selling and buying price currently is on the global market.  We keep our eyes on these sometimes multiple times a day. This ensures the cash we're paying to customers is as fair an amount as possible.
When you bring your jewelry down to our pawn shop, our associate will begin by ensuring our gold and silver prices are up to date at that moment.  We then move on to the testing process where we do various things.  Jewelry quality is inspected; along with quality, another aspect tested is purity.  Particularly when it comes to gold, there are varying purities that can influence the price greatly.  The last and most important piece is to weigh the item as that's how sold jewelry is valued.
All in all, while we may be quick, we're thorough and ensure that our Mesa, Tempe or Chandler customers sell jewelry for the most amount of cash possible, every time.
Selling Jewelry is Not the Last Resort
We definitely understand that jewelry to many people can have a great deal of sentimental value attached to it; making selling it difficult and not ideal.  Our goal is to help the residents of Mesa get back on their feet. We would never want to put them in a position wherein they are losing something close to their heart.  We're more than happy to offer jewelry loans to any customers who would like the opportunity to regain possession of their jewelry.
Our jewelry loans are written for a period of ninety days and can be repaid early at no penalty whatsoever.  At the end of this period, all we ask is that you repay the original loan plus the interest accrued up to that point. We'll happily return your precious silver, gold, or diamond jewelry to your possession.  During that time, your jewelry sits inside our safe, secured and monitored vault; this is to ensure its safety for the entire duration.