Engagement Ring Loans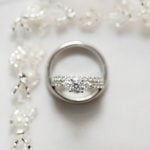 An engagement ring commemorates one of the most important moments of an individual's life.  It symbolizes all of the great moments leading up to the proposal, and what is yet to come.  There's a reason it comes with such large cost: it's an investment in the future. However, that investment can help you out of a financial bind.  While a last resort, an engagement ring loan can help put the money needed into your pocket in minutes. Most importantly, you must trust your lender. Because the pawn shop that Mesa relies on is Oro Express Mesa Pawn and Gold.
How Engagement Ring Loans Work
An engagement ring loan is an incredibly simple process.  More commonly known as a pawn loan, we take the value of your ring and turn it into cash.  This all begins with a valuation,  by our experienced staff on location.  All of our pawnbrokers are trained tools needed to value diamonds and jewelry.   Our appraisals are free of charge.  And, you are never under any obligation to accept our offer.  It's as simple as that, and is available to citizens of Mesa, Tempe, and Chandler seven days a week.

Call or text us to answer any questions you have. Want to cut your time in half at our store? Click on live-chat at bottom right of the screen to start your paperwork before you arrive.
Assessing Your Engagement Ring
The assessment will begin with grading the diamond, based on the 4 C's of Diamonds.  Which are color, clarity, cut and carat.  After that, we will locate the hidden hallmark on the ring, to know where to begin the analysis of the purity (aka fineness) of the precious metal the ring is made of, by utilizing our testing kit.  Once the testing concludes the gold's fineness, the ring is weighed.  Finally, our pawnbroker will confirm the current daily spot price of the precious metal, and the current market value of the diamonds, and then add the assessments together to present a cash offer to you.
If our engagement ring loans offer is accepted, we will just need your valid and current Driver's License, and a few signatures to complete the paperwork.  Once that is all said and done, we will count out the offer in cash, and hand it directly to you.  The entire process of engagement ring loans can take as little as 15 minutes from the assessment to cash in your hands.
We Make Repayment as Simple as Possible on Engagement Ring Loans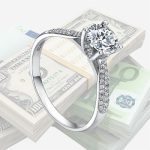 We understand better than other pawn shops in town that you might have concerns regarding engagement ring loans.  When repaying your loan, our goal is always to make things as easy as possible no matter the circumstance.  First and foremost, no matter if you're from Mesa, Tempe, or Chandler, it's important to know that your diamond ring is safe and secure.  All our diamond jewelry is kept secured in our pawn shop vault for the whole 90-day duration.
The pawn loan can be repaid whenever you're ready.  Whether that's day 1, or day 90, that's up to you and there's no additional penalties regardless.  If you need extra time, that's okay too!  At Oro Express Mesa Pawn and Gold, we get that life is variable and can throw curve balls your way.  With just the payment of interest up to date on your engagement ring loans, we can extend your pawn loan for another 90 days at no charge whatsoever.
From Mesa to Tempe to Chandler, Oro Express Mesa Pawn and Gold is the only place to pawn diamond engagement rings for cash.  Your diamonds are safe, secure, and you'll get paid its actual value.