Cash for Gold Guy Mesa, Tempe & Chandler Trust!
We are known as the Cash for Gold Guy Mesa and the East Valley relies on!  Experience and dedication is guaranteed at Oro Express Mesa Pawn and Gold!  We offer the highest amount for your gold, putting cash in your pocket!  Along with being easy to find in the Temple Historical District, adding more convenience to cash in your gold!
Bring in your gold jewelry, gold watches, gold coins, gold ingots or gold bullion to us!  Our offers surpass all others on yellow gold, white gold, rose gold or the combination of all three!  A friendly associate can assess any gold you have for a valuation free of charge!  If you need cash come on in to Oro Express Mesa Pawn and Gold!  We are the cash for gold guy Mesa trusts to get the best cash offers around!
We Are the Cash for Gold Guy Mesa Relies On!
We have earned the nickname of being the Cash for Gold Guy Mesa residents!  Because our staff is expertly trained and certified to valuate your gold.  Oro Express Mesa Pawn and Gold strives to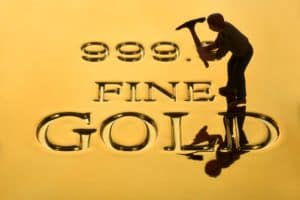 take every factor into consideration to accurately offer you the most cash possible!
It starts with an inspection of the external condition of the gold and locating the hidden stamp.  This stamp marks the "karat" of the gold which must be verified.  Because to give you the best offer, we must have the tools to determine its value.  Our jewelers have the most advanced technology to test the gold's purity efficiently and quickly.
With a special stone small gold flakes are acquired to test. This does not scratch your gold in any way.  It allows  us to be thorough and test its purity.  The gold flakes are tested with a drop of acid, which is authenticated when the gold has no reaction.  The gold is then weighed to complete the assessment before we refer to the daily global market value.  Because all of this is vital to ensure our staff presents you with the highest cash offer.
We Know Time is as Valuable as Money!
We know that time is precious these days.  That is why our staff is skilled and experienced to assist you.  Knowing that allows you to be confident that our offer is the highest amount possible.  Besides accurately valuating of your gold, we can have you out the door in 5 minutes or less!
Oro Express Mesa Pawn and Gold can start the process and save even more time, by clicking on the live chat at bottom.  An associate can answer any questions and start an on-line estimate before leaving your home.
Providing Mesa Area with Impeccable Offers for Over a Decade!
Time and experience are essential to achieve the reputation of being the Cash for Gold Guy Mesa knows and trusts!  Oro Express Mesa Pawn and Gold knows the value we give is also value received!  After more than 10 years of serving Mesa, Gilbert, Queen Creek and Chandler.  We pride ourselves in conveniently being located at the cross streets of East Broadway Road and South Mesa Drive.  Now you know what drives the demand to come down to our store!  So, come in to our store today and an associate will place a value on your gold and put cash in your hand!
We Also Provide 90-Day Short Term Loans on Gold!
If you are unable to part with your gold just yet, we have options!  Please ask our friendly staff member about getting a secured 90-day short term loan.  Because the cash for gold guy Mesa depends on, offers gold loans as well.
This option offers to give you the cash now, while securing the safety of your gold until the loan is paid.  Our goal is to help you in a time of need and returning your gold to you.  We will work with you to make that possible.  If you pay the loan in full before it is due we do not charge any penalty fees.  In fact, if you pay off the loan prior to the 60th day, we will deduct a redemption discount for the total amount due.
Perhaps you need more time?  We can extend your loan for another 90 days with paying the interest due at that time.  Therefore, your gold's equity can become cash in your hand today, while giving you time to pay off the loan and have your gold back in your hand in the end.
Oro Express Mesa Pawn & Gold is the Cash for Gold Guy Mesa residents can count on for the best offers turning into cash in your hands!