The Mesa Pawn Shop Worth Visiting
We at Oro Express Mesa Pawn and Gold have been in successful business for the citizens of Mesa for over a decade. This is barely a drop in the bucket compared to the history of Mesa; this city's rich history spans over 2000 years. But we won't go THAT far in regard to Oro's history with the city. Instead, we'll focus on the history of how local Mesa residents have helped shape this store into what it is today!
At Home Mesa Locals versus Outsourcing
As a Valley-focused business, we take great pride in how we pick the best local staff in the area we operate. This is our hallmark, first and foremost. It's how we made our store, Oro Express, be what it is today! As there are many Mesa residents, we must be somewhat selective in the process. We choose individuals with skill in regards to how to quickly we appraise gold, silver, and other precious metals and jewelry.
Among them we also select persons with an 'ear to the ground' sense of how Mesa has handled the latest trends. Since the employees are local, that's as easy as it gets. Not only that, we also choose capable leaders that are able to resolve customers' concerns. Finally, we have a history of understanding our customers' needs. We resolve their concerns when it comes to our pawn loans, or from buying our products.
When Outsourcing, you follow a patterned script that is a blanket handling of situations. That also means these are based on a much broader scope of business; this usually gives a more 'corporate' aspect that locals are not too fond of. This also present problems in dealing with circumstances that residents of the area may have that isn't covered by their script.
A History of Skilled Experience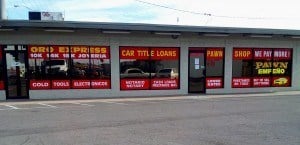 While we spoke earlier about appraisal, most staff members have been in the industry for generations. Some members have been in the pawning industry longer than the store has been running! Thanks to their skill in appraisal, the store has a combined history of over 35+ years pawning and appraising at their disposal. That's a lot of years! This allows us to quickly determine valuables within 15-20 minutes on average and as quickly as 2 minutes on single items! Why the difference? It's due to what's being brought forward. A single piece will take less time to evaluate as opposed to an entire set. That is the core difference from local appraisers and a national brands.
Last But Not Least!
Oro Express has much to offer her citizens. Local approach thanks to residents, a wellspring of experience thanks to our staff, and the trust of Mesa residents for being in business for over ten years! There isn't much more to say outside of this: We're Oro Express Mesa Pawn and Gold; a local pawn shop that continues to serve Mesa residents everyday!