Get the Best Deals at Oro Express Mesa Pawn & Gold

Everyone is looking for the best deals they can find on stuff they have.  They also want to save a few dollars in the process.  Well, the possible chance of getting it both ways is here thanks to Oro Express Mesa Pawn and Gold!
Why the Need for a Pawn Shop to Make the Best Deals?
Why not go to a Pawn Shop?  First, the lines there are almost non-existent.  Think about it.  You go to a Best Buy, Target, and even a Wal-Mart, and you could be waiting in line for HOURS to buy the TV you need.  Here at Oro Express Mesa Pawn & Gold, you don't have to worry about lines like that.  Second, you may find that hidden gem in what you're looking for in a TV.  You can also use that TV or Laptop as a secondary device to suit your needs.
What Do You Have In Your Store?
We have many different types of Electronics for sale.  Our store offers TVs from all the major brands, such as Sony, Sharp, and Samsung.  We also have collected various laptop from all the major manufacturers: HP, Dell, Apple, Lenovo, to name a few.  We even carry some musical instruments, mainly guitars, so you can rock out without rolling in a lot of money out of your pockets.  Finally, what pawn shop wouldn't have other unique electronics such as stereo systems, Gaming Consoles, and so much more.  The only way to know what we have in store is to stop by!
How Do I Get To You?
To reach our store, merely stick to Broadway Rd and head due east past the AZ-101.  We're just a little ways past S. Mesa Drive.  We'll be on the right-hand side.
What Is So Unique About Oro Express Mesa Pawn & Gold?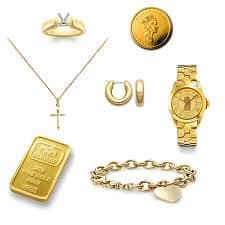 Aside from hiring local staff, most members of our team are bi-lingual in American English and Spanish.  That means if you feel more comfortable with speaking en español, our staff will be happy to oblige.  Another benefit of our store is our pricing.  We don't price match our competition.  We don't need to do so.  Our prices speak for themselves.  You could save hand over fist in money by going to us instead of a major retail store for the best deals.
The items are in a near new condition, so be aware of that.  Finally, we have been in business for some time now.  Over Ten Years, to be exact.  The citizens of Mesa, Tempe, Chandler and the surrounding areas are familiar with who we are.  Now's your chance to find out what best deals you can find through us, today!