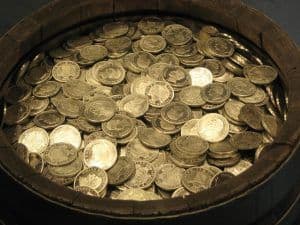 A Gold Buyer in Gilbert
Though we are not a Gold buyer in Gilbert physically, Oro Mesa has seen many customers come from Gilbert. These customers use our business for the various reasons that bring them here. One of these reasons we will discuss today is that Oro Express Mesa Pawn and Gold is a Gold Buyer for Gilbert locals.
What Makes Oro Express Special?
Oro Express Mesa Pawn and Gold is an ideal place to do business solely because of our commitment to our customers. We buy their gold when they need the money, regardless of their financial situation.
Do We Get These Items Back?
You do…but not in the way where you get it back for no cost. In other words, customers selling these items to us like this know it's a final transaction. If they want their items back, they have two options: decline our offer or buy it back at our retail price. There is another way though, and that is through our pawn loans. We would hold onto the items while the loan is in effect and you would have up to 90 days to pay it back. Once paid back, you get your items back. Plain and simple.
What Gold Does Oro Express Mesa take?
With gold involved, there are many forms it can take; and Oro Mesa takes them via the following designs:
Gold Bullion; These are Bars, Coins, Bartering Units
Jewelry Pieces and/or Sets; this comes in the form of necklaces, earrings, bracelets, and other items.
Gold Nuggets; all forms and sizes are welcomed as we will appraise their worth in-store.
Scrap Gold; similar to gold nuggets, but not as polished as nuggets.
Golden Watches; near priceless timepieces that can also be used as collateral.
Antique/Estate Gold Jewelry; this one is tricky but it's not something our team of professional appraisers can't handle.
From this list, customers have a wide variety of golden goodies for us to buy from them. Yes! You read that correctly. We of Oro Mesa, give YOU the customer, money for the golden items you show to us.
How Do You Reach Us From Gilbert?
We can be reached several ways from Gilbert. The first method is taking Gilbert Road north to the US-60, make a left onto the 60, and then get off exit 180. Finally, make that right off the exit ramp to South Mesa Drive heading north. You'll see us on the right. Another way to reach us is to head west to North McQueen Road and stay on this road even after it changes to Mesa Drive. Just like before, you'll see us on the right. That's how easy it is to find our location.