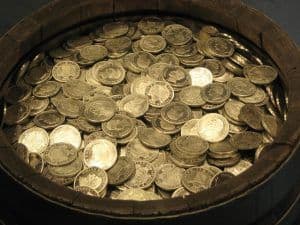 A Gold Buyer in Gilbert
Though we are not a Gold buyer in Gilbert physically, Oro Mesa has seen many customers come from Gilbert. These customers use our business for the various reasons that bring them here. One of these reasons we will discuss today is that Oro Express Mesa Pawn and Gold is a Gold Buyer for Gilbert locals.
What Makes Oro Express Special?
Oro Express Mesa Pawn and Gold is an ideal place to do business solely because of our commitment to our customers. We buy their gold when they need the money, regardless of their financial situation.
Assessing Gold & Cash Offers For Gilbert Residents
All of our assessments at Oro Express Mesa Pawn & Gold are free of charge, and are never under any obligation to accept our cash offers!
To determine the best cash offer, our pawnbroker will first conduct an assessment.  It will begin by verifying the purity of the gold itself.  If you bring in gold coins or bullion, we are equipped with Sigma Metalytics to run an analysis.  This tool is amazing, because it sends electromagnetic waves that go through the gold to determine if the hallmark is correct regarding its purity.  If you bring in gold jewelry, we are also equipped with a testing kit to verify its fineness.
Next, the gold will be weighed, and then our pawnbroker will check the current spot price to calculate our cash offer to you.
What Does Your Gold Buyer In Gilbert Take When It Comes To Gold?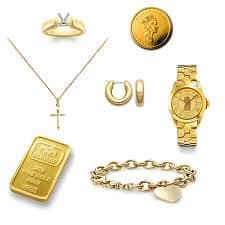 Being your gold buyer in Gilbert, there are many forms it can take; and Oro Mesa takes them via the following designs:
Gold Bullion; These are Bars, Coins, Bartering Units
Jewelry Pieces and/or Sets; this comes in the form of necklaces, earrings, bracelets, and other items.
Gold Nuggets; all forms and sizes are welcomed as we will appraise their worth in-store.
Scrap Gold; similar to gold nuggets, but not as polished as nuggets.
Golden Watches; near priceless timepieces that can also be used as collateral.
Antique/Estate Gold Jewelry; this one is tricky but it's not something our team of professional appraisers can't handle.
From this list, customers have a wide variety of golden goodies for us to buy from them.  Yes!  You read that correctly.  We here at Oro Express Mesa Pawn & Gold, give YOU the customer, money for the golden items you bring to your gold buyer in Gilbert, at your one stop pawn shop in Mesa.
If you have any questions, please click on the bottom right of your screen.  You will reach the next available assistant to provide you with the answers, and can even begin the process online prior to arriving at our store.
How Do You Reach Us From Gilbert?
We can be reached several ways from Gilbert. The first method is taking Gilbert Road north to the US-60, make a left onto the 60, and then get off exit 180. Finally, make that right off the exit ramp to South Mesa Drive heading north. You'll see us on the right. Another way to reach us is to head west to North McQueen Road and stay on this road even after it changes to Mesa Drive. Just like before, you'll see us on the right. That's how easy it is to find your gold buyer in Gilbert, seven days a week.
Oro Express Mesa Pawn & Gold is here in the East Valley, to provide you with the most cash possible to be the gold buyer in Gilbert, Mesa, Queen Creek and Apache Junction.  For over a decade we have continued to provide the accurate assessments, that turn offers into fast cash and in your hands!  Come by, and see what offers are waiting for you!