A Gold Buyer Mesa Residents Trust
Whether you live near or if you reside in the Mesa city limits you know how costly events can be.  You also know that if you have an assortment of gold bullion, coins or jewelry that you own, you have a viable means to get fast cash when you need it most.  Fortunately, Oro Express Mesa Pawn and Gold can do both; become a gold buyer Mesa residents trust and provide the best purchasing value for your gold.
We Are a Gold Buyer That Assesses Value & Turns It Into Cash?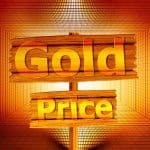 What we mean by that, we are referring to the Spot Price of Gold on the Stock Market to correctly and accurately make an offer, based on the market's value. We use this as a basis to get you the best value and provide the highest offer possible. This practice is the foundation our professionals continue to follow up in creating great deals as a gold dealer Mesa can count on!
We use these numbers as a guideline for both buying and selling gold to our customers.  While many of us are not constantly dealing in gold and don't see it, the true value of your gold jewelry or coins is constantly fluctuating meaning that it can certainly be more or less valuable on certain days of the week.  At Oro Express Mesa Pawn and Gold, we update our prices constantly to reflect the spot price and ensure that our customers are getting the fairest deal possible.
All of our customers in Mesa will attest that we're the top gold buyer Mesa knows, trusts and pay the most cash when compared to our competition.  Feel free to come and get a free estimate for your gold today.
How Do You Get These Payouts?
First and foremost, make sure you have an Arizona State-Issued ID that is current and valid; for example, your Driver's License.  Then we also need to see your gold that you wish to bring to us; this can range from gold necklaces, bullion, coins, or even scrap and estate gold jewelry as well.
What Types of Gold Do You Buy?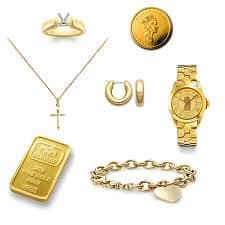 There are various types of gold that we, as a gold buyer Mesa relies on, is looking to offer the most cash possible for.  They range from gold necklaces and jewelry of many designs to bullion and gold bars to scrap gold and more.  Our professional team of experts will examine the gold you bring.  Once they finish their assessment, an offer is made, and the customer can choose to partake of that offering.  We hope you do!
It really can't be said enough to our Mesa customers that we will happily pay cash for any gold you bring through our doors.  No matter if it's broken jewelry, old gold coins, or just one earring from a set of two.  We buy gold based on its worth as a precious metal.  And its value is based on its purity, and its weight.  But it also means that no amount is truly worthless.  We've been paying cash for gold for well over a decade and have no intentions of stopping any time soon.
What Makes Oro Express Mesa the Best Decision?
Oro Express Mesa Pawn & Gold is a respectable business that had provided cash when customers needed money most.  We've also assisted customers in the sister cities of Gilbert, Chandler,  and Queen Creek. Many have searched for a gold buyer Mesa.  And Oro Express Mesa Pawn & Gold is the gold buyer Mesa Residents rely on for cash when they need it. Visit today to get started!

If you have any questions, please click on the bottom right of your screen, to reach an assistant via Live Chat.  They will be more than happy to answer any questions you may have, and even begin the process online before you come in and see your gold buyer Mesa!