A Gold Buyer for Chandler
Chandler customers are a treat for us here at Oro Express Mesa Pawn and Gold. Many of them come to our business for the various reasons that bring them here: work, leisure, both, or something else entirely. One of these reasons we will discuss today is that Oro Express Mesa Pawn and Gold is a Gold Buyer for Chandler locals.
What Gold Does Oro Express Mesa take as the Gold Buyer for Chandler?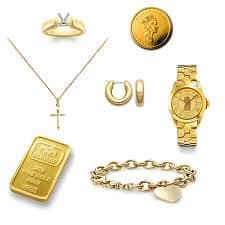 With gold involved, there are many forms it can take; and Oro Mesa takes them via the following designs:
Gold Bullion; These are Bars, Coins, Bartering Units
Jewelry Pieces and/or Sets; this comes in the form of necklaces, earrings, bracelets, and other items.
Gold Nuggets; all forms and sizes are welcomed as we will appraise their worth in-store.
Scrap Gold; similar to gold nuggets, but not as polished as nuggets.
Golden Watches; near priceless timepieces that can also be used as collateral.
Antique/Estate Gold Jewelry; this one is tricky but it's not something our team of professional appraisers can't handle.
From this list, customers have a wide variety of golden goodies for us to buy from them. Yes! You read that correctly. We of Oro Express Mesa Pawn and Gold, give YOU the customer, money for the golden items you bring in to sell to us.
Assessing the Value of Your Gold Lead to the Best Offers Possible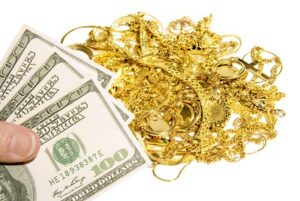 For any and all gold bullion, coins, ingots, etc., Oro Express Mesa Pawn and Gold is well equipped with the Sigma Metalytics device.  This device allows us to analyze bulk forms of gold, and receive results in less than a minute.  Without the need of removing your gold bullion from its packaging, the tool sends electromagnetic waves through the precious metal, and then the results of its purity is displayed on the screen.
As the Gold Buyer for Chandler, we are also equipped with a testing kit for any and all jewelry.  So, the first thing the pawnbroker will do is locate the hidden stamp, marking the gold karat was made of.  And after retrieving little gold flakes to test, by using a touchstone, they will allow our staff member to verify the purity of the gold, without putting your gold jewelry in harms way.
Once the purity of your gold, the pawnbroker will put it on the scale to weigh it, followed by confirming the current market spot price, and calculate an offer to present to you.
Our cash offers on precious metals, match or around the spot price.  That is why we continue to be the Gold Buyer for Chandler the East Valley trusts, and relies on for the most cash possible.
Do I Have Any Other Option than Just Sell Gold for Cash?
You do…but not in the way where you get it back for no cost. In other words, customers selling these items to us like this know it's a final transaction. If they want their items back, they have two options: decline our offer or buy it back at our retail price. There is another way though, and that is through our pawn loans.
When you pawn gold at our store, you have 90 days to pay back the principal, plus the interest accrued.  Once the loan is paid in full, we will hand you back your gold, in the same condition that it was received.  As the gold buyer for Chandler, we try to offer multiple ways to get the cash you need.
What Makes Oro Express Special?
Oro Express Mesa Pawn and Gold is an ideal place to do business solely because of our commitment to our customers. We buy their gold when they need the money, regardless of their financial situation. Whether from Mesa, Gilbert, Queen Creek, or any part of the East Valley or specifically in Chandler, Oro Express Mesa Pawn and Gold is the Gold Buyer for Chandler residents to conduct business.