A Gold Coin Buyer Mesa Trusts!
Gold Coins are always a fine collectible that has lasting value. However, if you live in Mesa, finding the best gold buyer Mesa location is troublesome.  Troublesome, until today, thanks to Oro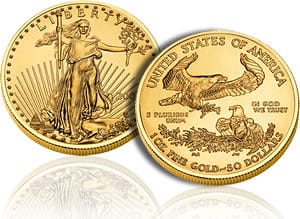 Express Mesa Pawn and Gold.  We're the Gold Coin Buyer Mesa locals can get the most value from!
How do You Start This Process?
Bring your gold coins to our store; we then assess the value of the gold in them along with other factors, and finally provide the cash for those valuable items. It's a very straight-forward process. That's what our customers love about our store. The paperwork itself is roughly less than a half-hour on average, but can be as quick as a few minutes.
Our assessment begins with an analysis of the gold itself, to confirm the purity hallmarked on the coin.  And with our Sigma Metalytics device, we will not even have to remove them from their packaging to do so.  Because this tool sends electromagnetic waves through the coins themselves, to test.  Therefore, having the results displayed within less than a minute.  After that, we confirm the weight, and then the current spot price, calculate an offer, and present it to you.
Our assessments of gold coins are free of charge, and are under no obligation to accept our cash offer!
Are We A Particular Gold Coin Buyer?
Mainly, we focus on American Minted Gold Coins, such as Golden Dollars. That does not mean we turn away other coins; it just means we deal with Golden Dollars first and foremost. The other coins will be treated as gold items. Now bring those beautiful coins to our store and see what we can offer!
Do I Get The Coins Back After You Buy Them?
Only if you want to cancel the transaction before we finish. Once we complete the process, we become the owners of the coins. That means you would have to purchase them back based on the set price we have for them. To avoid this, we recommend instead getting a gold coin loan. That way, after the loan is paid, you get your coin back from our secure storage vault.
Why Go to these Lengths as a Gold Coin Buyer?
This is the least we can do for a community that has supported us for over ten years. This community has also expanded to Mesa's neighbor cities, such as Tempe, Chandler, Gilbert, Queen Creek, and more. So, if you have the coin, we have the cash! Oro Express Mesa eagerly awaits your arrival.